Trump Can't Immediately End DACA, Supreme Court Rules
June 18, 2020
The program, Deferred Action for Childhood Arrivals, protects people brought to the United States as children by shielding them from deportation and letting them work.
By Adam Liptak and Michael D. Shear
June 18, 2020
Updated 1:28 p.m. ET
WASHINGTON — The Supreme Court ruled Thursday that the Trump administration may not immediately proceed with its plan to end a program protecting about 700,000 young immigrants known as Dreamers from deportation.
The court's ruling was a blow to one of President Trump's central campaign promises — that as president he would "immediately terminate" an executive order by former President Barack Obama that Mr. Trump had called an illegal executive amnesty for hundreds of thousands of young immigrants.
Chief Justice John G. Roberts Jr. wrote the majority opinion, joined by the court's four more liberal members in upholding the program, Deferred Action for Childhood Arrivals, or DACA.
"We do not decide whether DACA or its rescission are sound policies," the chief justice wrote. "We address only whether the agency complied with the procedural requirement that it provide a reasoned explanation for its action."
After contentious debates among his aides, Mr. Trump announced in September 2017 that he would wind down the program. He gave only a single reason for doing so, saying that creating or maintaining the program was beyond the legal power of any president.
But the justifications the government gave, Chief Justice Roberts wrote, were insufficient. He said the administration may try again to provide adequate reasons for shutting down the program.
The decision was the second this week in which the court reached a result in a major case that elated liberals. On Monday, the court ruled that gay and transgender workers were protected by a landmark civil rights law. Chief Justice Roberts was in the majority in that decision, too.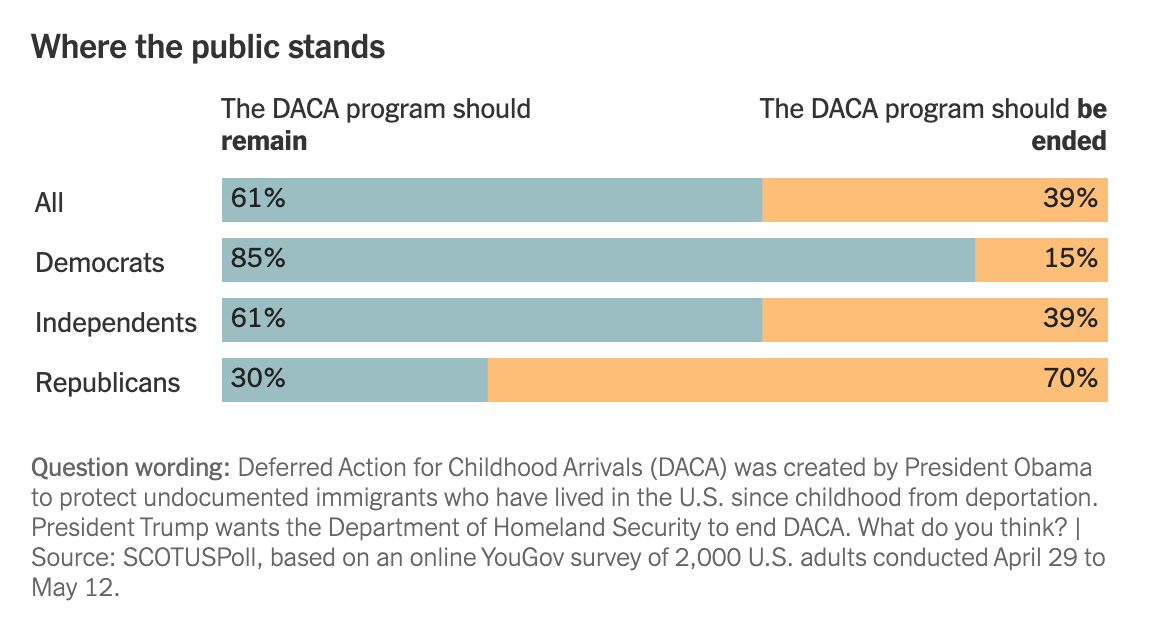 In a dissent, Justice Clarence Thomas, joined by Justices Samuel A. Alito and Neil M. Gorsuch, said the majority had been swayed by sympathy and politics.
"Today's decision must be recognized for what it is: an effort to avoid a politically controversial but legally correct decision," Justice Thomas wrote. "The court could have made clear that the solution respondents seek must come from the legislative branch."
"In doing so," he wrote, "it has given the green light for future political battles to be fought in this court rather than where they rightfully belong — the political branches."
President Trump immediately attacked the ruling on Twitter.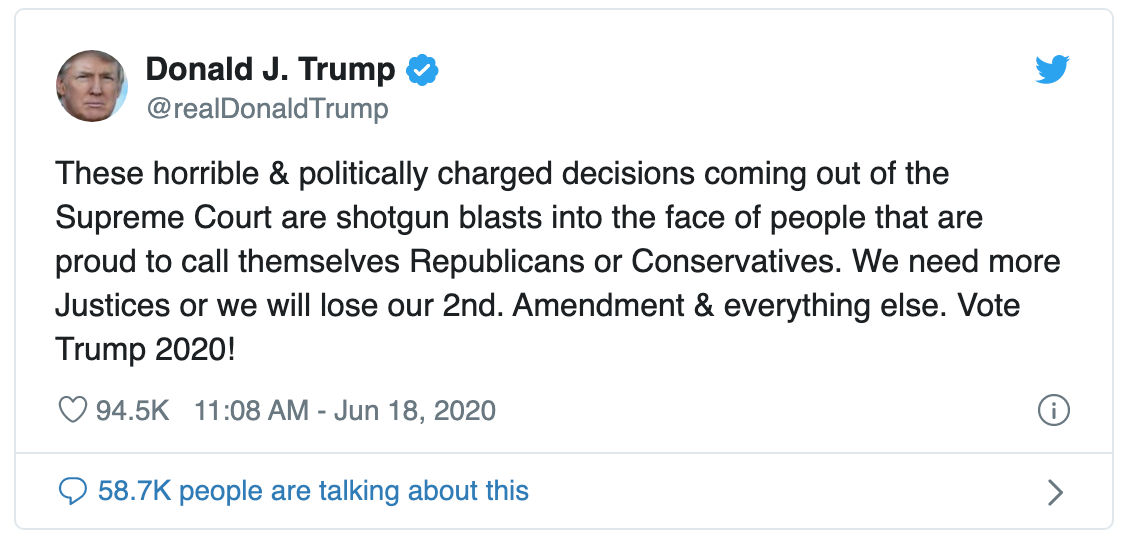 The program was announced by President Barack Obama in 2012. It allows young people brought to the United States as children to apply for a temporary status that shields them from deportation and allows them to work. The status lasts for two years and is renewable, but it does not provide a path to citizenship.
The court's ruling means the Trump administration officials will have to provide a lower court with a more robust justification for ending the program. That process is likely to take many months, putting the administration's assault on the program in limbo until after the November election.
It will also put on hold any plans to round up more than 700,000 young immigrants — many of whom have been living in the United States since they were small children — and deport them to foreign countries they may not even remember.
In the past, Mr. Trump has praised the program's goals and suggested he wanted to preserve it. "Does anybody really want to throw out good, educated and accomplished young people who have jobs, some serving in the military?" he asked in a 2017 Twitter post.
But Mr. Trump sometimes struck a different tone. "Many of the people in DACA, no longer very young, are far from 'angels,'" he wrote on Twitter last year as the Supreme Court prepared to hear arguments in the case. "Some are very tough, hardened criminals."
In fact, the program has strict requirements. To be eligible, applicants had to show that they had committed no serious crimes, had arrived in the United States before they turned 16 and were no older than 30, had lived in the United States for at least the previous five years, and were in school, had graduated from high school or received a G.E.D. certificate, or were an honorably discharged veteran.
"I do not favor punishing children," Mr. Trump said in his formal announcement of the termination. But, he added, "the program is unlawful and unconstitutional and cannot be successfully defended in court."
Source: https://www.nytimes.com/2020/06/18/us/trump-daca-supreme-court.html